– Enjoy the beauty of Africa, Caribbean and other exotic Black destinations.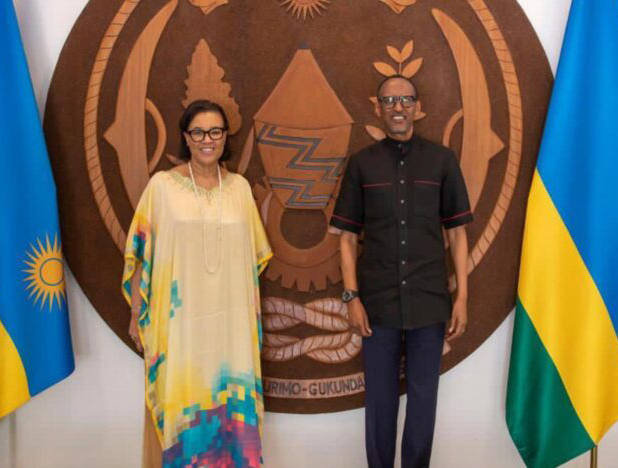 Rwanda President Paul Kagame (right), pictured with Commonwealth Secretary General Patricia Scotland
Rwanda's tourism sector is set to be boosted when Commonwealth leaders travel to Rwanda for the 2022 Commonwealth Heads of Government Meeting (CHOGM) held in Kigali from June 20-25.
"Having around 5 000 people from across the world coming to Rwanda will translate into substantial revenues in terms of accommodation and expenses, but it will also have other additional benefits and business opportunities," said Chief Tourism Officer at Rwanda Development Board, Ariella Kageruka
The aim of the meeting, according to the Commonwealth website, is for the leaders to reaffirm their common values and agree actions and policies to improve the lives of all its citizens.
The meeting will also host over thirty heads of state who have confirmed their attendance, high-level government officials, businesspeople and academicians among others, reports eTurboNews and Tourism Update.
Reports from Kigali have shown a lot of expectations from business operators in all sectors of the economy, mostly in tourism, who are set to invite and accommodate visitors from Africa and from outside its boundaries.
Various social events have been planned to take place during the CHOGM days, including the Kigali Fashion Show that will be hosted from June 21 to 23 at Kigali Arena, with about 800 expected guests. The show will feature local and international designers.
Kageruka said that the Fashion Show would be an opportunity for local designers to market, showcase and sell the 'Made in Rwanda' products, culminating into a fashion show in the course of the business forum that will be running at the same time.
The official opening of CHOGM takes place on June 24 and is followed by the main high-level meetings of Heads on the same day until the next day (June 25).
Your comments, ideas, and thoughts matter.
Drop us a line: