ARTS, STYLE & ENTERTAINMENT
This is YOUR lifestyle gallery – of what is new and what is happening in the U.S. And the Black World, not excluding Africa. For this section if you have any news we should know about – let us know at: [email protected]
by MITCHELL FRIEDMAN
In November 1960, six-year-old Ruby Bridges became one of the first Black children to integrate an all-white elementary school in the South. The iconic civil rights moment was immortalized by Norman Rockwell in his painting The Problem We All Live With. Erik Thor-Sandberg's mural at Eaton DC offers a different perspective, that of a defiant Bridges slaying the monsterous Jabberwock from Lewis Carroll's Through the Looking-Glass.
The mural might not completely epitomize the philosophy of Eaton, but it comes damn close.
There aren't many hotels like the Eaton DC. Elevator doors open on photographs of protesters under attack by firehose and a "whites only" sign from decades past. Socially conscious art exhibitions rotate through the lobby. A "radical library" shares a wall with the cocktail bar behind it. Many hotels espouse progressive values. Some even paper the walls with it. At Eaton, it goes beyond ethos. A mural about slaying the forces of evil is great. Eaton aids the actual slaying.
The hotel holds no allegiance to any political party, but they don't hide their activist mission, inspired as it is by "the historic political movements that struggled for equity and progress," according to founder Katherine Lo. Today, her hotel consciously joins movements that follow in their path.
"When mobilizations have happened in DC, we've been the headquarters of it."
Her team is made up not just of hotel professionals, but of many DC natives with a background — like hers — in the arts, music, or activism. Sometimes political organizations find them through these networks. Or sometimes they just "reach out to us because they feel aligned with our ethos." They've hosted the Women's March planning committee, as well as campaigners from the Indigenous Environmental Network, and provided sanctuary for Black Lives Matter protesters. Members of the hotel's co-working space often find themselves collaborating on new social justice projects.
And while supporting significant historical moments make up the core of the Eaton DC vision, the aesthetics themselves are important here, too. Especially in a capital city defined by classical white pillars, stately buildings, and founding fathers.
Enter the National Gallery of Art from one side and you're led through a lobby of pre-revolutionary portraits of white nobility. Enter Eaton DC in 2022 and you're greeted by BLK NEWS, a version of Kahlil Joseph's video installation that first premiered at the Venice Biennale. Crossed out New York Times headlines referencing "Black Mozart" splash across the screen while the concierge hands you a room key. The message here is bold and uncompromising — and impressive in a city where most hospitality brands strive to keep their appeal as broad as possible.
"The offerings and programming at Eaton DC serve as antidotes to a town often mired in exclusive and hegemonic spaces and narratives," as the hotel explains to any guest willing to read a note in the elevator. Which is why you can understand how it must have bothered Lo when her thoughtful, timeless space was summarized as the "anti-Trump Hotel" in countless headlines around the opening in 2018.
"I didn't actually say that," she laughs. But "it was definitely republished hundreds of times… and it's a wonderful clickbait-type title."
"We were committed to the values of community and social and environmental impact, and that was in 2014" during the planning stages of the hotel, explains Lo. "After [Trump] became president, for Eaton to stick to its values — just even of being socially and environmentally conscious — made us naturally counter to him because he didn't stand for those things."
Lofty goals, but it's not a stuffy place. Set a fifteen minute walk from the White
House or the National Mall, the first floor alone has all the infrastructure of a thriving little city. The radio station alerts you in neon lights that it's on-air before you make it to the front desk. Move clockwise around this kind of village square for rotating art exhibits, screening room, co-working space, exclusive cocktail lounge, cafe, and upscale New American restaurant. And that's before you go upstairs.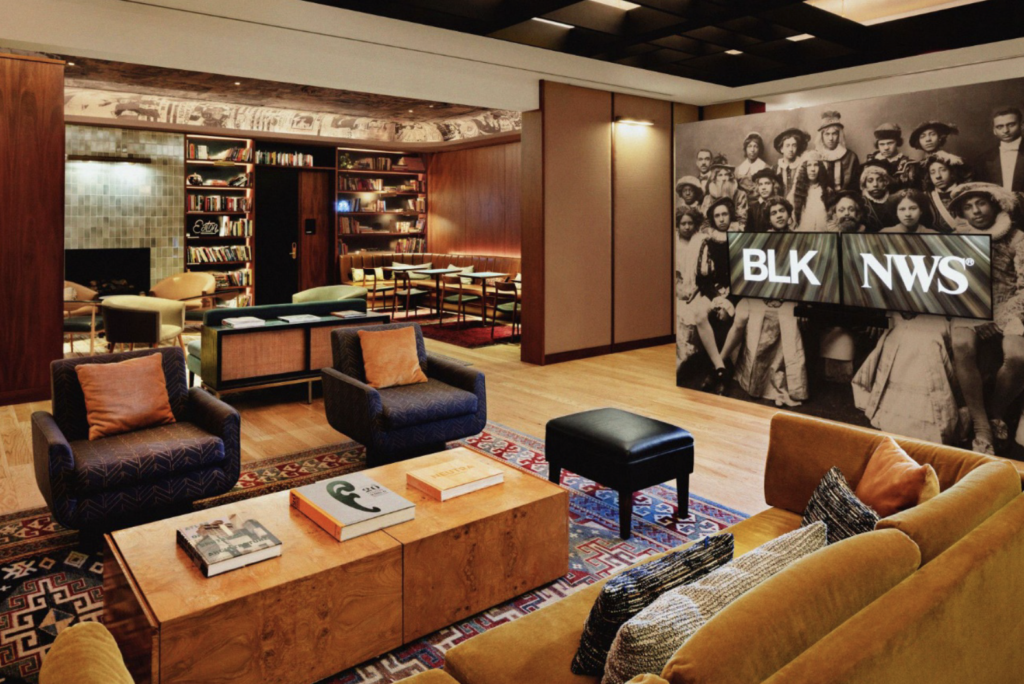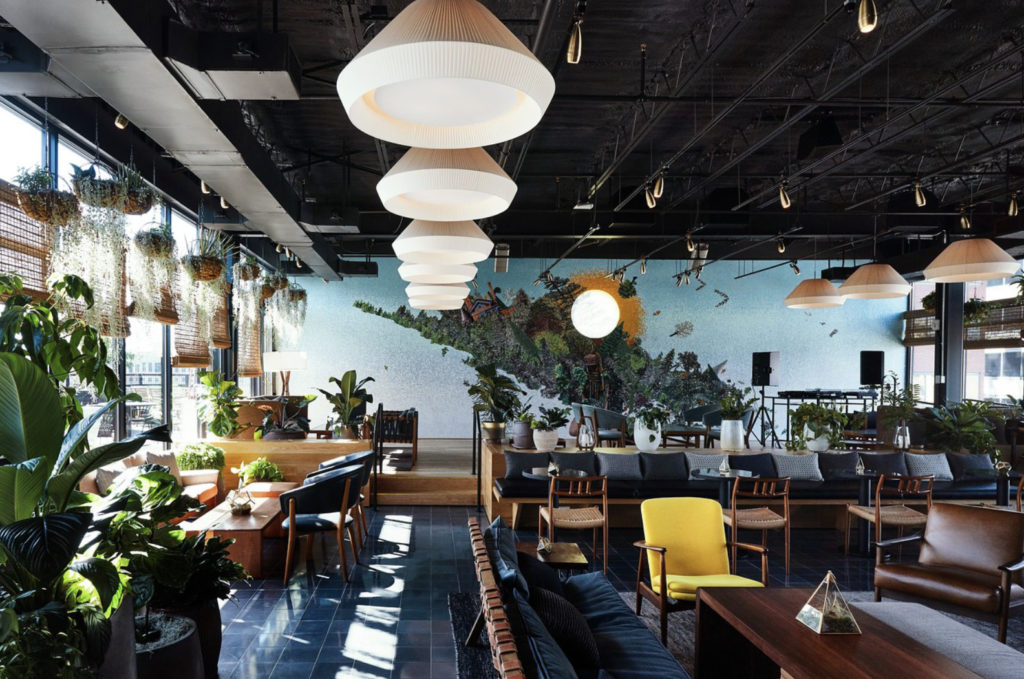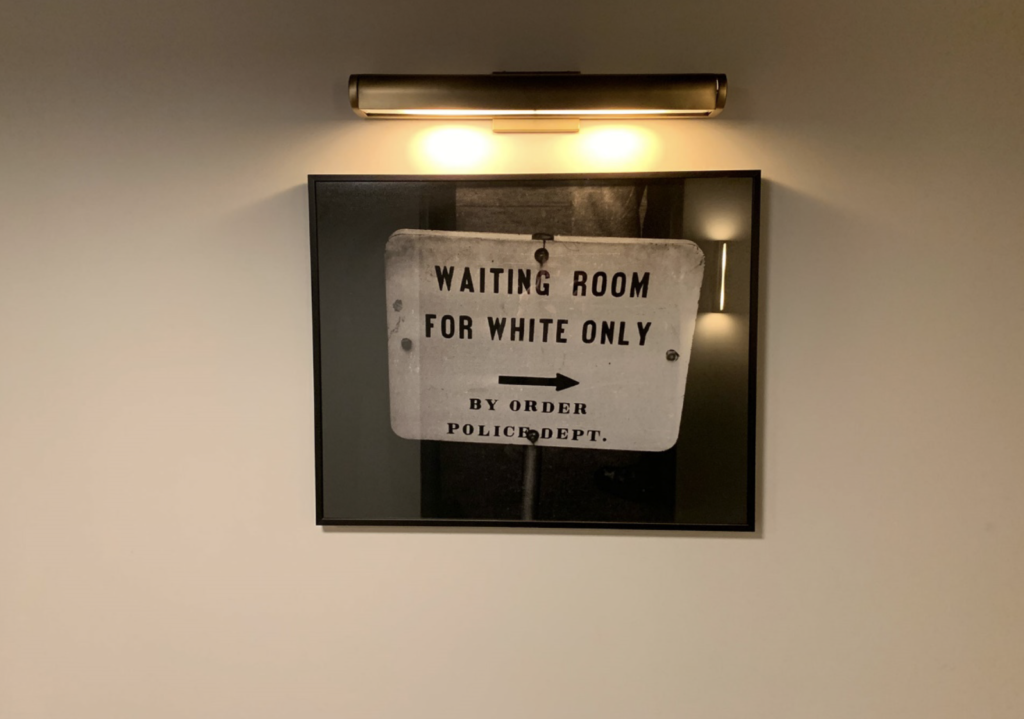 It sounds like a lot to put together, even before you factor in the uncompromising progressive vision. But maybe that's the secret, the unifying philosophy that holds all the pieces together and draws a diverse, like-minded crowd to its countless attractions, like a self-selecting mechanism for the community. In general, it's a place that feels like the heart of something. We'd be remiss if we didn't mention Wild Days, the buzzing indoor/outdoor rooftop that hosts a DJ and half the city's young people late into the night. (The other half are on the waitlist for Allegory, the creative cocktail bar on the first floor, where you'll find the Ruby Bridges mural).
Guests and locals can book a host of classes or appointments, with yoga classes, reiki, or a turn in the infrared sauna on offer. For decoration, Eaton dabbles in the occasional crystal, Himalayan salt lamp, or incense bowl. There are several suites, but all of the rooms are comfortable — spruced up with record players and a stack of progressive books (mine had works by Susan Sontag and Cory Booker) to go with comfortable, organic bedding and beautiful bathrooms.
"As we were burning out and working so hard, we would joke we were trying to start a hotel, a coffee shop, a restaurant, a bar, a music venue, a radio station, and a wellness center, and a co-working space at the same time," remembers Lo, "Like, are we insane?"
And still, "there were people who were like, 'Oh, they're an anti-Trump Hotel? What a dumb idea. After Trump's not president… What's their brand gonna be about?'" See above: that hasn't been a problem.
The 2022 laureate of architecture's highest honor, the Pritzker Architecture
Prize is Diébédo Francis Kéré, Burkina Faso-born architect, educator, social activist, receiver of the 2004 Aga Khan Award for Architecture. Recognized for "empowering and transforming communities through the process of architecture," Kéré, the first Black architect to ever obtain this award.
Your comments, ideas, and thoughts matter.
Drop us a line: