ARTS, STYLE & ENTERTAINMENT
This is YOUR lifestyle gallery – of what is new and what is happening in the U.S. And the Black World, not excluding Africa. For this section if you have any news we should know about – let us know at: [email protected]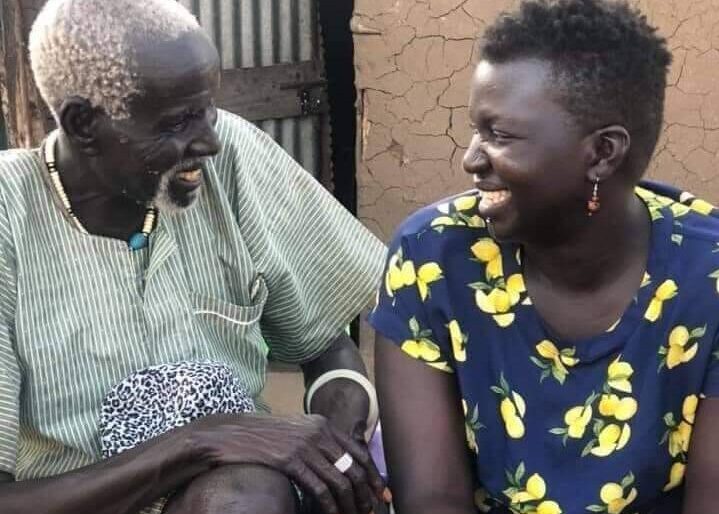 Interview By Caleb Onyeabor/Exclusive to The African Times-USA
"This wonderful human being is my grandfather, the last time he saw me was in 1992 in Nasir, Sudan (now South Sudan). I left him and my father as a seven-year old little girl and returned to him as a 34 year old woman and a two-time college graduate. He was the one who buried my late father. I don't have to tell you all what he was feeling as you can see it in his face and in his whole being, I am my ancestors wildest dream!", Nyamal Tutdeal told The African Times-USA.
This is the story of Nyamal Tutdeal, an African woman who overcame the challenges of a brutal war and later rose to the peak of educational attainment.
Nyamal was born in Ethiopia in a border town between Ethiopia and South Sudan as a child of war.
As a little girl and at that very early age, she experienced war. "In 1991, war broke out in Ethiopia and I walked to Sudan at the age of 6 and back to Ethiopia at the age of 7. I lived in Ethiopia for years before my family was resettled as refugees in the United States."
The 27 years journey of this brave African woman pursuing her dreams of education was not all a bed of roses. Rising up against all odds from a child refugee to a two-time college graduate was not a walk in the park. This is why five years ago, her story went viral globally. Five years later, it is back and on the front pages of various internet media, and The African Times/USA went in search of this unique woman with a unique story.
Commenting on her journey and providing advice to young people who may find themselves in the spot where she found herself many years ago, Nyamal said "I was privileged that my family were resettled in a third country. Not every child in war torn areas of the world has that privilege but that their dreams of getting educated are both valid and possible. Regardless of whatever education you can find, always choose that. Always choose education, whether it is in the big classes of developed countries or informal education from indigenous teachers, parents and older relatives. Informal education is also an option that you do not need to disregard  because education must not necessarily be in a formal setting"
When the story of how she returned to her grandfather went viral, it resonated well with black and brown migrants' because "They share in that story, a story of a people who wish to give back to the people who have given so much to them". It is the story of migrants in America, Europe and anywhere in the world who left home either because of war, economic and political instability but never really left home at heart because they are forever attached to the people back home – those who gave them their all.
As one who is passionate about giving back to the community, she has done a lot of advocacy campaigns on girl child education, women and children empowerment and peace-building.  She co-founded and is the co-director of the Nyaeden Foundation with its mission is aimed to empower and educate communities through peace-building, conflict resolution and holistic healing programming.
Her foundation's vision is to see a healthier thriving community, provide resources to promote self-sustaining programs with a focus on women and children throughout Africa and the Diaspora.
On Girl child education, Nyamal believes that "some countries have moved forward while others have retrogressed. Many Africans want both genders to be advocated for but the reality is that the girl child is the one that is more often endangered. They are the ones that are vulnerable. In a class of 100, you find out that only 30 girls make it to college. The boys are not being left behind; they have the privilege because the family will rather send the boys to school than the girls. At a stage in a girl's life, her family is already talking about marriage which they prioritize more than education".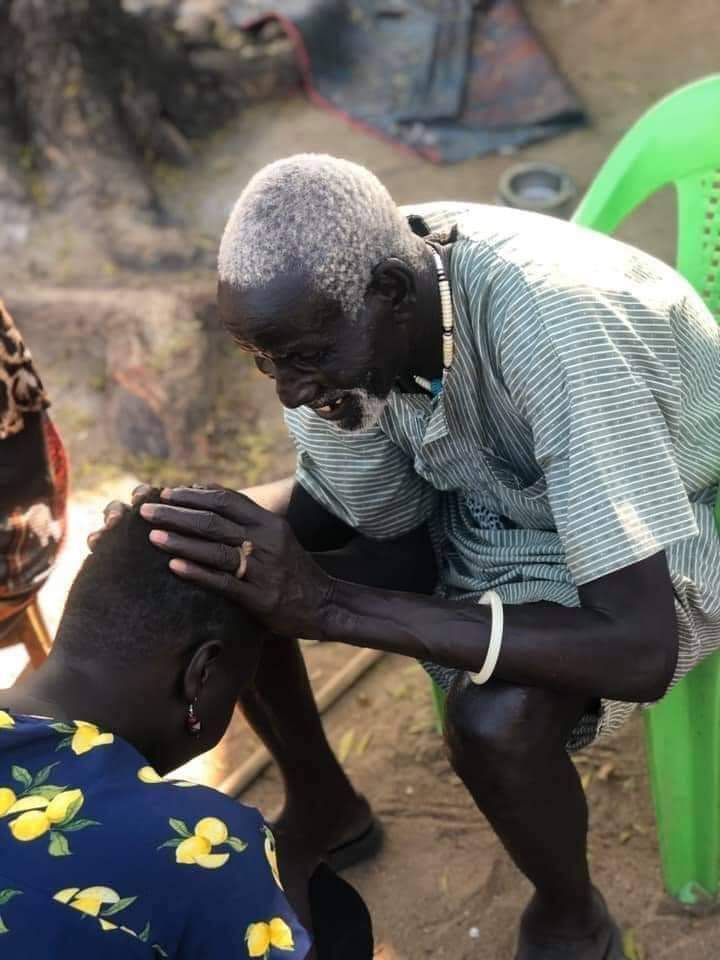 With a specialty in peace and conflict resolution, Nyamal is a professor at Arcadia University in the United States and Webster University in Ghana and has dedicated a part of her life to being an educator. "Men make war and women suffer war", Nyamal said. This is why through the Nyaeden Foundation, I am committed to empowering women and children through peace education and conflict resolution. As an educator, I believe in African solutions for African problems and so this is why we must adopt African methods of peace-building and conflict resolution".
As one whose life and work transcends the borders of Africa into America and beyond, Nyamal talks about the challenges she encounters in White settings. "Though I have had the opportunity of working in very open White organizations and institutions, I am a black woman, a very dark skinned black woman and there are some instances where some White folks attempt to belittle me. They ask questions like 'Who is She?'. I have to remind them of the value I carry and the qualifications that I have acquired. I am black woman, a two time college graduate and a professor. They have no option than to respect that. I am a proud African woman, anywhere I go, I wear my African prints (cloths),  and I represent my people. This is who I am"
"What you know is better than what color you are"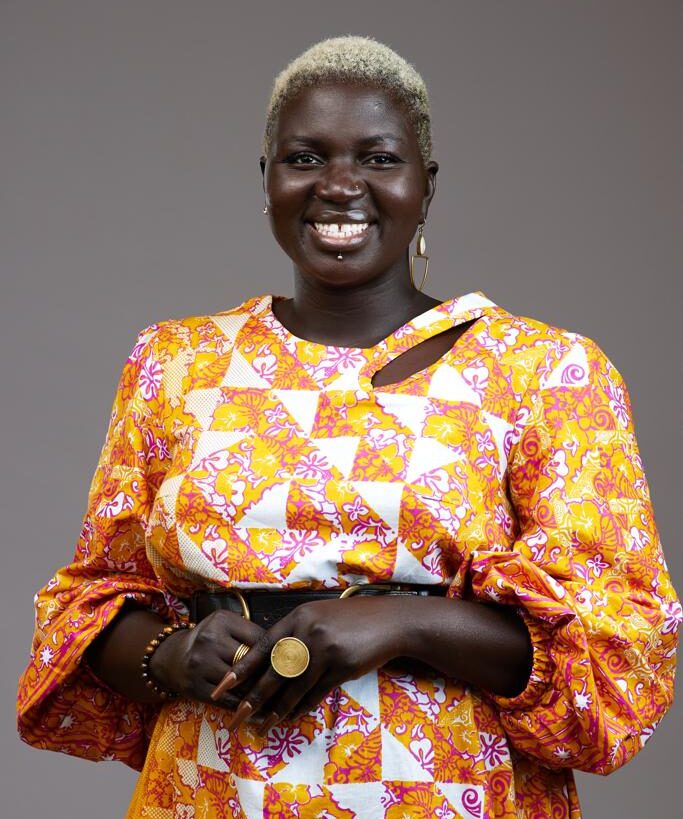 Through her foundation, Nyamal has given a lot of educational scholarships and invested so much in peace building and conflict resolution training. She has also done a great deal of work in community health navigation, reproductive health education and menstrual pads distribution. In five-to-ten years, she wishes to see the foundation have different chapters in different places. She wants more young people to get involved and more Africans to value their knowledge. She wants African peace solutions to take center stage in ensuring and sustaining peace in Africa.
"I am my Ancestor's Wildest Dream"
Nyamal is proud of her ancestry and African roots and brands herself as her ancestor's wildest dreams. When asked to explain, she said "I am an avid reader who had risen above the challenges to achieve things that my ancestors only dreamed of. I am the first woman in my lineage that had come to this level. Four generations ago, they wouldn't have thought that one of their children will survive war, attain Western education, travel round the world and is now a professor and that child of theirs will be a female child. I am everything they have dreamed of. I am impacting lives, giving back to humanity, teaching black children to think radically and promoting the interest of Africa as a people. Truly, I am living my Ancestor's dreams."
For young people out there, who wish to achieve their dreams, Professor Nyamal advised them to "Look inwards, look inside, identify what you want to do and do what you have to do to achieve those dreams. You don't need people that discourage you. You do not need people that tell you that your dreams are impossible. You need positive people in your life. People that ask you, how can I support you? How can I get books for you? You need people that pull you up the ladder and not those who pull you down. We have this bad practice of pulling ourselves down in Africa and this is why you must choose the people in your life and choose them rightly.
"My grandfather was not formally educated. My uncle although he had no formal education as well, helped me survive and played a huge role in what I became today. They both played a role in making me who I am today. Lastly, you have to take the risks of reaching out to people who inspire you. You need mentors and you should be humble enough to learn at the feet of your elders. When you do this, you too can become your ancestor's wildest dreams", this child of war who defied all odds to make it in life.
Subscribe to Read and Access Exclusive Contents
Join Business executives, political leaders, experts and top professionals in America, Africa and the rest of the Pan-African World who trust and read The African Times USA always.
Subscribe to our bi-weekly newsletter and be the first to Receive New Updates.
Your comments, ideas, and thoughts matter.
Drop us a line: