This section is dedicated to celebrating the lives of shining personalities in the U.S. And the Black World, not excluding Africa. For this section if you have any news we should know about – let us know at: [email protected]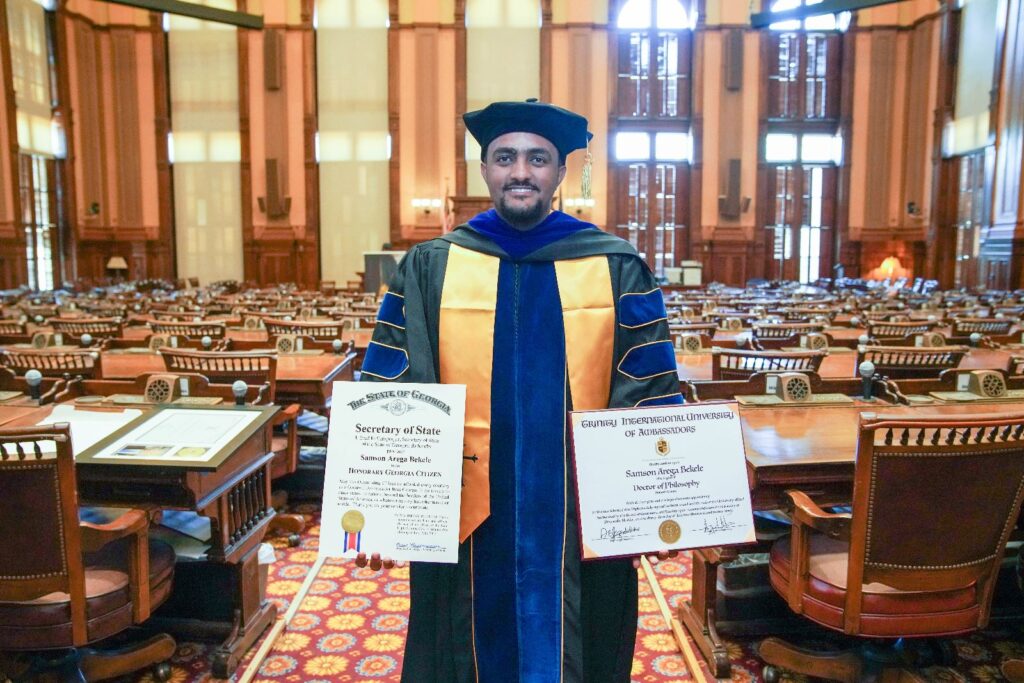 Exclusive to The African Times-USA
In the vast expanse of the aviation industry, where dreams take flight and horizons know no limits, one of the names that stands out as the most likely leaders in the industry in the fast growing aviation industry in Africa is Samson Arega Bekele. A name that has grown to resonate with excellence, dedication, and transformation, Samson's story is a remarkable testament to the power of passion, youth and the relentless pursuit of greatness. As the Regional Director for Ethiopian Airlines in the Americas, Samson's recent accolades set a new threshold for himself in his pursuit for excellence. His recent well deserved Honorary Doctorate Degree from Trinity International University of Ambassadors-Florida, is a testament to his unwavering commitment to excellence in his chosen field. That  is not all. The icing on the cake came with honor of a United States Presidential Lifetime Achievement Award, a crowning glory bestowed upon this young Ethiopian aviation professional.  Such distinguished recognition could not have found a more deserving recipient than Samson Arega Bekele. He is focused, pragmatic, committed, driven and result-oriented. His investiture took place recently at Georgia State Capitol House of Representatives where he was also admitted as an honorary citizen of the State of Georgia by the Secretary of State of Georgia. The award was presented to him at a grand event by the Georgia House Representative Dewey Loren McClain of the 100th District. Beyond the awards and recognition lies the heart of a true leader. Samson possesses an innate ability to turn visions into realities, threading together opportunities that wind through organizations, creating a symphony of success. His strategic prowess is unparalleled, making him the go-to person for driving material business advantage and fostering thriving networks of opportunities. Not merely a leader but an inspirational one, Samson's charisma lights up every room he walks into. His stories have the power to move mountains, igniting action in those who listen to him.  He is grounded in financial acumen, ensuring every decision made under his watch leads to success.
Samson has soared to the top in a journey considered extraordinary
Samson's journey began as a bright young professional in Ethiopian Airlines Aviation Group. Graduating with a BA in International Trade & Investment Management, he soared to the top of his class, earning a gold medal as recognition of his brilliance. His academic achievements were just the start of an illustrious path to greatness. Fueled by a thirst for knowledge and a drive to excel, Samson pursued a Master's degree at the prestigious University of Mississippi in the USA. His efforts were rewarded with honors and an induction into the distinguished Honor Society of Phi Kappa Phi, a symbol of his unwavering commitment to academic excellence. Not one to rest on his laurels, Samson honed his expertise at the Ethiopian Airlines Aviation Academy, immersing himself in the intricate world of the airline industry. It was here that he solidified his position as a prominent figure in aviation, gaining insights that would shape his extraordinary career.
The seeds of Samson's extraordinary journey were sown in the bustling corridors of Ethiopian Airlines, where he began as an Assistant Marketing Officer in the Pricing and Revenue Management section of the Commercial Division. Here, he delved into the depths of market dynamics, meticulously researching competitor positions, performance metrics, pricing strategies, and other critical market analytics. It was in this role that Samson honed his analytical acumen and business acuity, laying the foundation for his future success. A year later, the path of his destiny led him to the vibrant heart of Ethiopian Airlines, the Addis Ababa hub Sales and Marketing Directorate. In this pivotal role, he was immersed in an enriching environment that nurtured vital skills essential for his growth in the aviation industry. As the airline served influential personalities and dignitaries, Samson was exposed to a world of honor, effective communication, empathy, flexibility, optimism, time management, and the invaluable trait of a growth mindset. These qualities became the bedrock of his exceptional leadership journey. With each milestone he achieved, Samson's passion and dedication propelled him to greater heights. Progressing through the ranks within the sales & marketing division at the headquarters, he seamlessly transitioned through various pivotal roles, from sales representative to team leader, and eventually to acting manager of the section. His relentless pursuit of excellence earned him recognition and respect from his peers and superiors alike.
The momentous turning point arrived when he was appointed as the Area Manager for Ethiopian Airlines operations in Kuwait, stationed in the vibrant city of Kuwait City. Leading a diverse team, Samson embarked on a mission to further establish Ethiopian Airlines' presence in the Middle East. Together, they tirelessly promoted the airline's brand, ensuring seamless flight connections between Kuwait and the rest of Africa through the Addis Ababa hub. Furthermore, Samson spearheaded the introduction of dedicated weekly cargo freights, strengthening trade links between Kuwait and Ethiopia. The successful cargo operation thrived and expanded, eventually growing to twice a week, a testament to his effective leadership and strategic foresight.
With a trail of accomplishments that spoke volumes about his capabilities, Samson Arega Bekele's journey reached new heights when he was appointed as the Country Manager for Canada. Embracing this new challenge with determination, he skillfully navigated the complexities of the Canadian market, solidifying Ethiopian Airlines' presence in the region. But that was not the summit of his ascent. With his reputation preceding him as an exceptional leader and a visionary in the aviation industry,
Samson took on the role of Regional Director for Ethiopian Airlines in the United States. This marked a significant milestone in his career, as he assumed responsibility for the airline's operations in one of the world's most critical aviation markets.
In Canada, Samson Arega Bekele and his dynamic team embarked on an ambitious mission to forge strong bonds with industry leaders and stakeholders. Their efforts spanned across diverse sectors, from leisure to corporate, and included strategic partnerships in the thriving cargo segment. As a result, the brand awareness of Ethiopian Airlines experienced an exponential surge throughout Canada, solidifying its position as a leading choice for travelers and businesses alike.
Even in the midst of challenges, Samson delivered
Even amidst the challenges posed by the global pandemic, Samson's dedication to serving his customers and country remained unwavering. In the face of the COVID crisis, he collaborated closely with the Canadian government, leading the charge in coordinating the repatriation of thousands of stranded citizens, diplomats, aid workers, exchange students, and other foreign mission workers. This herculean effort became one of the major success stories of his career, filling him with immense joy and pride. Samson cherishes the memory of bringing families back together and witnessing the vital role Ethiopian Airlines played in bridging nations during those trying times. Moreover, during the height of the pandemic when many national and commercial airlines were grounded, Ethiopian Airlines emerged as a trusted and reliable partner for governments worldwide. The government of Canada, along with several other nations, placed their trust in the airline to execute emergency cargo shipments. Under Samson's astute leadership, his team rose to the occasion, representing Africa on the international stage with distinction and making a profound positive impact. In recognition of his outstanding contributions to the Canadian business landscape, Samson's efforts were celebrated with the prestigious 2021 Business-person of the Year Award by The Nigerian & Canadian Business Network (NCBN). This esteemed accolade stands as a testament to his vision, leadership, and dedication to fostering strong ties between Canada and Africa. Throughout his journey, Samson has had the privilege of working closely with various Canadian government officials, including Prime Minister Justin Trudeau's office, the then Foreign Minister François-Philippe Champagne, Minister of Small Business, Export Promotion, and International Trade Minister Mary Ng, and other distinguished figures. The trust placed in him by these leaders fuels his determination to deliver exceptional experiences to customers and forge strong bonds with business partners.
Samson's legacy will undoubtedly inspire generations to come, proving that dreams, when coupled with determination, can indeed become extraordinary realities.
Throughout his illustrious career, Samson has consistently maintained a focus on managing initiatives, forging strong business partnerships, and raising awareness of Ethiopian Airlines' vital role in connecting the world to Africa. His exceptional skill set includes expertise in negotiation, business planning, analytics, sales, pricing & revenue management strategy, operations management, airports, team building and management, integrated marketing communication, consumer research & behavior, airline economics, and overall business leadership and management. Respected as a credible and influential voice in decision-making, finding strategic partners, and establishing effective governance boundaries, Samson commands a well-deserved seat at the table wherever he serves. His commitment to excellence and exemplary leadership continues to inspire and shape the global aviation landscape, leaving a lasting impact on the industry and beyond.
As the story of Samson Arega Bekele unfolds, it becomes a saga of perseverance, vision, and unwavering commitment to excellence. His journey epitomizes the impact of visionary leadership, youthfulness and the power of a relentless pursuit of greatness. In every role he undertakes, Samson leaves an indelible mark, building bridges between nations and fostering a brighter future for the aviation industry in Africa and beyond. As he continues to soar to new heights, Samson's legacy will undoubtedly inspire generations to come, proving that dreams, when coupled with determination, can indeed become extraordinary realities.
Join our Exclusive List of Subscribers
Business executives, political leaders, experts and top professionals in America, Africa and the rest of the Pan-African World trust and read The African Times USA always. Subscribe now to access our exclusive content. Find out what you don't know and Find out what only few people know.
Your comments, ideas, and thoughts matter.
Drop us a line: