This section is dedicated to celebrating the lives of shining personalities in the U.S. And the Black World, not excluding Africa. For this section if you have any news we should know about – let us know at: [email protected]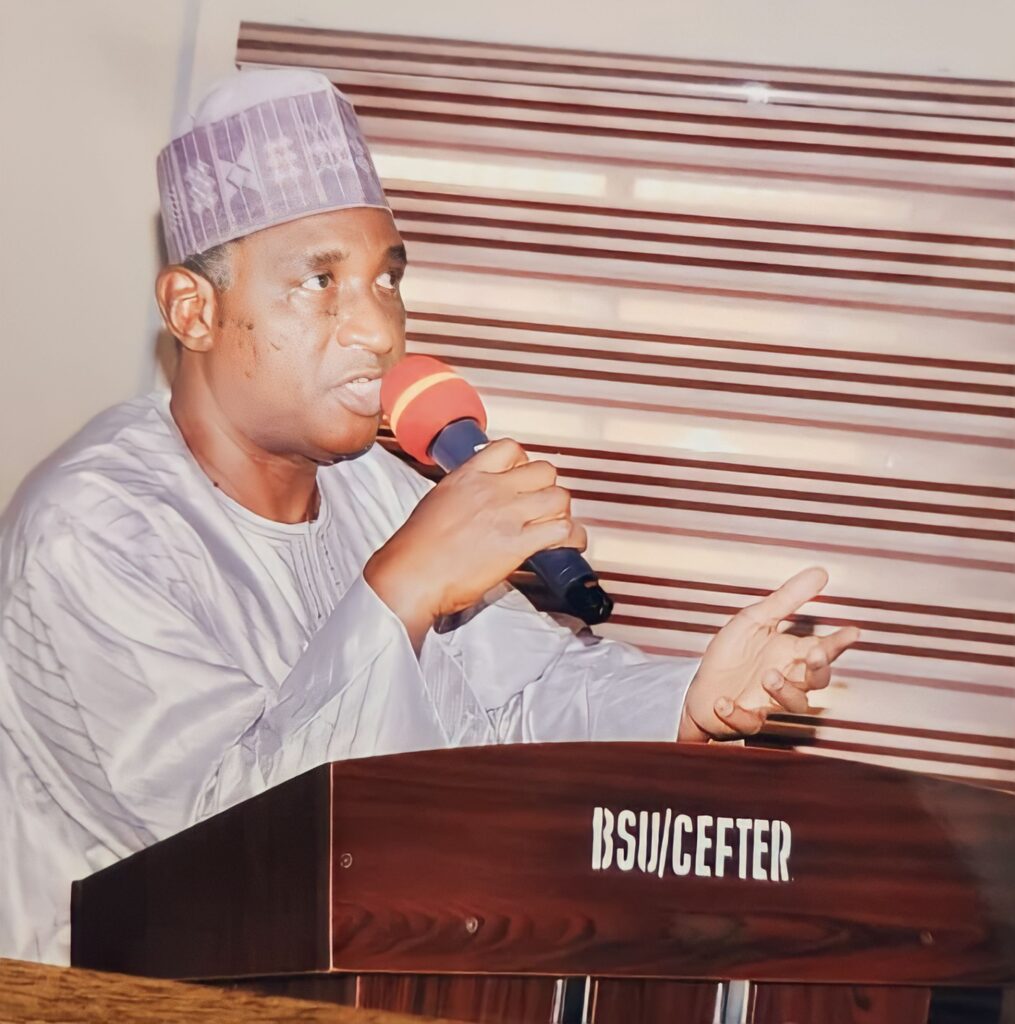 Exclusive to The African Times-USA
This is the story of a renowned Nigerian Professor who during the course of his illustrious career received the European Business Council Award in Oxford (2013), the best University VC award by the Indian-Africa Association (2012) and World Marketing Summit Award in Malaysia (2013). We delve deeply into the remarkable Journey he has had.
Alkasum ABBA is a man whose life journey has been marked by extraordinary achievements in the field of academia and exceptional leadership roles. Born on the 20th of May, 1953, in Yola, Adamawa state, Nigeria, he hails from Yola South Local Government Area. Throughout his life, Alkasum ABBA has demonstrated a profound dedication to education, a passion for history, and a commitment to service that has left an indelible mark on the academic landscape.
From an early age, it was evident that Alkasum had an insatiable thirst for knowledge. He immersed himself in the rich cultural heritage of Nigeria, embracing both Fulfulde and Hausa languages. These linguistic skills would later prove invaluable in his academic pursuits and his ability to connect with people from diverse backgrounds.
Alkasum's academic journey began at Ahmadu Bello University (ABU) in Zaria, where he pursued a BA (Combined Hons.) in History and Government, achieving an impressive 2.1 degree. This was just the beginning of his pursuit of excellence in academia. He went on to earn an MA in History from ABU in 1985, further honing his expertise in the subject matter. However, his thirst for knowledge was far from quenched, leading him to pursue a PhD in History at ABU, which he successfully obtained in 2001.
In 1989, Alkasum ABBA seized the opportunity to broaden his horizons and deepen his academic understanding by becoming a Non-Degree Research Student at the prestigious School of Oriental and African Studies, University of London. This experience exposed him to a global perspective on historical research and paved the way for his future contributions to the field.
Alkasum's academic accomplishments opened doors to a remarkable career at ABU, Zaria, spanning nearly three decades. Starting as a Graduate Assistant in the History Department, he climbed the ranks through sheer dedication and brilliance. He served as an Assistant Lecturer, Lecturer II, and Lecturer I, leaving a lasting impact on his students and colleagues through his inspiring teaching and mentorship.
His reputation as a visionary and capable leader led to his appointment as the Sole Administrator of Adamawa State University, Mubi, in 2007. This was followed by his exceptional tenure as Vice-Chancellor, where he led the institution with a steady hand, implementing transformative policies and initiatives that elevated the university's academic standing and infrastructure.
Despite his outstanding leadership and administrative acumen, Alkasum's heart remained rooted in the academic world. In 2015, he returned to his beloved Ahmadu Bello University (ABU), Zaria, where he assumed the prestigious position of a Professor of History. As a respected scholar, he continued to contribute to the advancement of historical knowledge and the nurturing of future generations of historians.
Beyond his academic prowess and leadership roles, Alkasum ABBA is a devoted family man. Married and blessed with six children, he embodies the values of love, responsibility, and dedication within both his personal and professional life.
Throughout his life, Alkasum ABBA has exemplified the ideals of an academician, a leader, and a family man. His passion for history, dedication to education, and commitment to service have left an indelible legacy that will continue to inspire and shape the minds of generations to come. As a trailblazer in the world of academia, he has not only expanded the frontiers of historical knowledge but also imparted wisdom, kindness, and compassion to all who have had the privilege of knowing him. The story of Alkasum ABBA serves as a beacon of inspiration, encouraging others to strive for excellence and embrace the transformative power of education and leadership.


Pioneering Research: Unraveling History and Shaping Policy
Alkasum ABBA's academic journey is not only marked by his impressive qualifications and leadership roles but also by his relentless pursuit of knowledge through extensive research. As a historian, he recognized the value of archival and fieldwork research, which played a pivotal role in his pursuit of higher degrees and his contributions to various research initiatives.
During his pursuit of a Master's degree, Alkasum embarked on an extensive archival and fieldwork research for his MA thesis. He delved into the National Archives in Kaduna and explored the historical records of the Adamawa Emirate, immersing himself in the rich history of the region between 1979 and 1983. This research not only honed his research skills but also laid the foundation for his future exploration of Nigeria's historical landscape.
For his PhD thesis, Alkasum's research took him beyond Nigeria's borders as he embarked on an ambitious journey of exploration in Nigeria and the United Kingdom. He conducted comprehensive research between 1988 and 1991, which included interviewing several former British colonial officers who had served in Northern Nigeria, such as Sir Gwain Bell, the last colonial Governor of the region. This remarkable endeavor provided invaluable insights into the colonial period and shed light on the historical intricacies of the region.
During his research in the UK, Alkasum spent six months in the Public Records Office and the British Newspaper Library, Colindale, London. He meticulously studied the renowned West African Pilot newspaper from its inception in September 1937 to December 1960. This painstaking effort allowed him to unravel a wealth of historical information and contributed to a deeper understanding of the socio-political landscape during that period. Additionally, he conducted research at the Rhodes House Library, University of Oxford, which further enriched his academic repertoire.
Alkasum ABBA's dedication to research extended beyond his own academic pursuits. As a coordinator, he was involved in the Petroleum Demand Survey by Filling Stations in the Northern States and the Federal Capital Territory (FCT) in 1992, a significant project conducted on behalf of PPMC, a subsidiary of the Nigerian National Petroleum Corporation (NNPC). This survey provided crucial data for the petroleum sector and contributed to the formulation of effective policies.
Alkasum's involvement in research initiatives continued with his role as a member of the research team on the UNESCO-MOST International Research Project on Economic and Social Transformations Associated with Drug Trafficking. Conducted between 1995 and 1997, this project examined the impact of drug trafficking on economic, social, and political dynamics in Africa. The team's comprehensive report was submitted to UNESCO, serving as a valuable resource for understanding the challenges posed by illicit drugs in the region.
Additionally, Alkasum was an integral part of the research team at CEDDERT (Centre for Democratic Development, Research, and Training, Zaria) commissioned by the Human Rights Violations Investigation Commission. The team conducted research on human rights violations in Nigeria, particularly focusing on the North-West and North-East Zones, covering the period from January 15, 1966, to May 28, 1999. The reports submitted in 2000 and 2001 provided critical insights into the human rights landscape of the region and served as a foundation for addressing historical injustices.
Currently, Alkasum ABBA continues to contribute as a member of the ongoing CEDDERT research team investigating banditry in Zamfara, Kaduna, and Katsina States. His dedication to research and the pursuit of knowledge remains unwavering, and his contributions have shaped historical narratives and informed policy decisions, leaving a lasting impact on academia and society at large. Alkasum's commitment to understanding history and its relevance to contemporary challenges is a testament to his passion for learning and dedication to the betterment of humanity.
Dedication to Community Service: A Legacy of Impact
Alkasum ABBA's commitment to serving his community and nation is as remarkable as his academic accomplishments. Throughout his illustrious career, he has actively engaged in various community service initiatives at both the national/state and university levels, leaving a lasting impact on the institutions he served and the communities he touched.
At the national and state levels, Alkasum demonstrated his leadership and dedication through his involvement in several significant committees and initiatives. As a member of the Governing Council of the Federal College of Education, Yola, from 1990 to 1993, he contributed to the development of educational policies and strategies to enhance the quality of education in the region. He was also a member of the Organizing Committee for the Zik/Gowon National Symposium on Nigeria in 1994, which sought to foster dialogue on critical issues facing the nation.
Alkasum played a pivotal role as the Political Secretary to M. D. Yusufu during his preparations to contest the 1998 Presidential election against General Sani Abacha. His involvement in the political landscape showcased his passion for contributing to Nigeria's democratic processes and promoting active citizen participation.
As a member of various organizing committees, including the Lamido Aliyu Musdafa Golden Jubilee in 2003 and the Bicentenary of the Sokoto Caliphate in 2004, Alkasum actively participated in celebrating and preserving the cultural heritage of Nigeria. Additionally, his membership in Vision 2020 demonstrated his commitment to shaping the country's future through strategic planning and policy development.
Alkasum's involvement in community service extended to the academic realm within Ahmadu Bello University (ABU). He served on multiple committees, leaving an indelible mark on the institution. As a member of the Editorial Committee for "New Dimension," ABU News Bulletin, he contributed to fostering effective communication within the university community. His dedication as the Secretary of ABU Staff Co-operative Society from 1985 to 1989 exemplified his desire to enhance the welfare of university staff.
Throughout his tenure at ABU, Alkasum assumed various leadership roles, such as Chairman of the Arewa House Sub-Committee on Education Research from 1991 to 1996 and Chairman of the Faculty Screening and Registration Committee for the Faculty of Arts and Social Sciences (FASS) in 1995-96. He also led the Investigating Committee into Students Congress in 1996-1997, highlighting his commitment to maintaining harmony within the student community.
Alkasum's contributions extended beyond ABU as he served on committees investigating allegations and irregularities in other departments and organizations. His leadership as the Chairman of the Committee to Investigate Allegations Against the Acting Managing Director of ABUCONS in 2001 showcased his integrity and impartiality.
As Secretary and Trustee of CEDDERT, a position he held from 1991 to the present day, Alkasum demonstrated his dedication to research and development initiatives that promote democracy, good governance, and social justice.
His editorial roles in "Analyst Magazine" and "Analysis Magazine," where he served as a member of the Editorial Committee from 1986 to 1989 and later as the Editor-in-Chief from 2001 to 2004, showcased his passion for disseminating knowledge and encouraging public discourse on important issues.
Alkasum ABBA's commitment to community service, whether at the national/state level or within the academic sphere, reflects his deep sense of responsibility to contribute positively to society. Through his leadership, dedication, and integrity, he has left a legacy of impact that will continue to inspire and benefit generations to come. His tireless efforts in both academia and community service have undoubtedly made him a role model and a beacon of positive change in Nigeria.
Bridging Nations through Academic Engagements
Alkasum ABBA's intellectual curiosity and passion for knowledge have transcended borders, propelling him to participate in numerous international conferences that fostered collaboration, knowledge exchange, and global understanding. His extensive engagement with these conferences reflects his commitment to advancing academic discourse on various themes, ranging from African history to global education trends.
During his early academic career, Alkasum participated in the International Conference on the History of the Central Sudan Before 1804 AD in Zaria, Nigeria, in January 1979. This conference provided a platform to explore the rich historical heritage of the Central Sudan region and shed light on pre-colonial African civilizations.
His dedication to the study of Africa's pastoralist communities led him to attend the International Conference on the Pastoralists of the West African Savannah, held at ABU Zaria in July 1979. This gathering allowed scholars to exchange ideas and perspectives on the unique challenges and opportunities faced by pastoralist communities in the region.
International collaborations remained central to Alkasum's academic pursuits, as seen in his participation in the UNESCO-organized conference on "What History of Africa Tomorrow" in N'djamena, Chad, in July 1989. This conference focused on shaping Africa's future by understanding its past, emphasizing the importance of historical research and preservation.
His involvement in the International Conference on Solidarity with Southern Africa in Salford, England, in June 1990, demonstrated his commitment to supporting global movements for justice and freedom. This conference aimed to show solidarity with the people of Southern Africa during their struggles against oppression and apartheid.
At the national and regional levels, Alkasum actively contributed to conferences that addressed critical issues facing Nigeria and West Africa. As Secretary of the Organizing Committee for the Meeting of Experts on Democratisation, Peace Building, and Conflict Resolutions in Africa, held in Zaria in March 1995, he played a pivotal role in promoting democratic governance and conflict resolution in the region.
Throughout his career, Alkasum remained engaged with international academic institutions and think tanks. His participation in conferences like the International Seminar on New World Trends on the Future of Oil and Energy in Caracas, Venezuela, in June 2000, allowed him to delve into global energy dynamics and their implications for the future.
The significance of international cooperation in the education sector was not lost on Alkasum, as evident from his attendance at the Conference of Commonwealth Ministers of Education in Mauritius in August 2012. This gathering provided a platform for education policymakers to discuss strategies for improving education systems in Commonwealth nations.
Despite his busy international schedule, Alkasum remained committed to engaging with the local academic community. He actively participated in national historical society congresses and conferences held within Nigeria, including the National Conference on the National Question in Nigeria, organized in collaboration with the Presidency in Abuja in 1986.
One notable local conference in which he played a crucial role was the Farmer-Pastoralist Conflicts in Nigeria, which took place in September 2016. As part of the organizing committee, Alkasum contributed to the exploration of sustainable solutions to conflicts between farmers and pastoralists in the country.
Alkasum ABBA's participation in numerous international and local conferences reflects his dedication to advancing academic research, promoting international cooperation, and addressing critical issues affecting society. His willingness to engage with diverse perspectives and share his expertise has positioned him as a respected scholar and advocate for positive change on both the national and global stage. His contributions to the academic community have left a lasting impact, inspiring scholars and policymakers alike to strive for a better world through knowledge, understanding, and collaboration.
Contributions to Knowledge and Academic Discourse
Alkasum ABBA's scholarly journey has been marked by an impressive array of publications, spanning chapters in books, journals, and comprehensive works that have enriched academic discourse across various fields. His vast body of work demonstrates an unwavering commitment to knowledge dissemination, historical research, and the pursuit of truth.
As an advocate for national integration and education, Alkasum, along with M. A. Modibbo, co-authored the chapter "Education and National Integration in Nigeria: Problems and Prospects" in the book "The Nigerian Alternatives." This chapter, published in 1987, delves into the challenges and potential solutions to fostering unity through education in Nigeria.
His co-authored chapter with Saidu Adamu, "Staff and Students Welfare in ABU: An Overview," in "A History of Ahmadu Bello University 1962-1987," reflects his concern for the well-being of the academic community. This chapter offers a comprehensive analysis of the welfare systems in Ahmadu Bello University, providing valuable insights for future improvements.
Alkasum's contributions extend to historical research. Together with G. A. Kwanashie, he authored "The Background to 1st October 1960: The Primary Sources From Northern Nigeria," which appeared in the book "Inside Nigerian History 1950-1970." This chapter analyzes primary sources from Northern Nigeria, shedding light on the events leading up to Nigeria's independence.
In the realm of politics and conflict resolution, Alkasum, along with Abubakar Siddique Mohammed, wrote a paper titled "The Nature and Scope of Intra-Party and Inter-Party Conflict in Nigeria," presented at a conference on strategies for curbing election-related violence. This paper examines the dynamics of political conflicts in Nigeria and provides insights into potential solutions.
His commitment to understanding Nigerian politics is evident in his various contributions. In the book "Impressions and Facts: Nigeria Under General Ibrahim Babangida, 1985-1993," Alkasum authored chapters on the Goals and Restructuring Programme, the Transition to Civil Rule Programme, and Prevalent Perceptions of the Babangida Regime, offering nuanced analyses of Babangida's policies and their implications.
Alkasum's dedication to historical research is evident in his contributions to the biographical history of Sokoto Sultans and his own work "The Northern Elements Progressive Union and the Politics of Radical Nationalism in Nigeria 1938-1960." These works offer valuable insights into the lives of influential figures and political movements that shaped Nigeria's history.
His intellectual prowess has been acknowledged through the presentation of papers at numerous conferences and seminars. From exploring the political economy of Yola Metropolis to delving into the role of criminal organizations in the US foreign policy related to drug trafficking, Alkasum's scholarly engagements have been diverse and impactful.
Furthermore, his passion for education and academic engagement is evident in his edited works, such as "The Politics of Mallam Aminu Kano: Documents From the Independence Struggle, 1950-1960," which sheds light on the life and contributions of the prominent Nigerian politician.
Overall, Alkasum ABBA's publications and scholarly contributions reflect a keen interest in understanding and addressing critical issues facing Nigeria and the global community. His relentless pursuit of knowledge and commitment to research have left a lasting impact on various academic disciplines, inspiring future generations of scholars to follow in his footsteps. As a prolific and dedicated scholar, Alkasum's work continues to shape academic discourse and contribute to the progress of knowledge.
Contributions Beyond Academia
Beyond his impressive academic achievements and contributions to Nigerian history and education, Alkasum Abba's engagements extend to public lectures, symposia, and international travels. His versatility as a scholar is evident in his involvement in various public events, where he shares his insights on critical issues facing Nigeria and the world.
One notable contribution is his paper titled "The Assassination of Murtala Mohammed and the Struggle for a Purposeful Leadership in Nigeria." Presented at a symposium commemorating the 7th anniversary of General Murtala Mohammed's assassination, the paper delves into the impact of the leader's death and the need for visionary leadership in Nigeria.
In another symposium celebrating the 10th anniversary of the Republic of Angola, Alkasum Abba delivered a paper titled "Angola: Her Achievements and Problems Since Independence." Here, he analyzes Angola's journey since gaining independence and sheds light on the nation's achievements and challenges.
Furthermore, Alkasum and Saidu Adamu co-authored a memorandum on "Electoral Malpractices in the 1983 General Elections: The Case of Kaduna State," submitted to the panel investigating the activities of FEDECO. This shows his commitment to promoting transparency and fairness in electoral processes.
Alkasum's engagement with public lectures is noteworthy as well. He delivered the 2nd Mallam Aminu Kano Memorial Lecture on "The Imperative of Good Governance after the 2011 Elections," emphasizing the importance of effective governance for Nigeria's progress.
Another public lecture titled "Ignorance, Political Irrelevance and the Persistent Quest to Restructure the Nigerian Polity, 1999-2021" underscores his concern for Nigeria's political trajectory and the need for informed decisions in the pursuit of restructuring.
Additionally, Alkasum delivered a public lecture on "Contemporary Nigerian Politics and the Ghost of the Politics of Independence Struggle" at Arewa House, Kaduna, providing a critical analysis of the nation's political landscape.
His academic pursuits have taken him on travels to numerous countries, allowing him to gain a broader perspective and share his knowledge on various international platforms. He has visited countries in Africa, Europe, North America, South America, and Asia, making valuable connections and contributing to global academic discourse.
Alkasum Abba's contributions beyond academia demonstrate his commitment to promoting informed and critical discussions on issues of national and international importance. His public lectures and symposia engagements have provided valuable insights and contributed to shaping public discourse in Nigeria and beyond. As a multifaceted scholar, Alkasum's impact extends far beyond the confines of his academic achievements, making him a respected and influential figure in Nigerian and global intellectual circles.
Legacies as Vice Chancellor
As Vice Chancellor of Adamawa State University, Mubi, from 2007 to 2014, Alkasum Abba achieved remarkable advancements and improvements in various aspects of the institution that made him a much talked about administrator in Nigeria's University system. Under his leadership, the university saw significant progress in areas such as fair representation, academic accreditation, academic standards, ICT integration, postgraduate education, faculty development, infrastructure development, and international recognition.
One of the notable achievements during his tenure was ensuring fair representation of all the Local Governments in terms of staff recruitment and student admissions. This move was significant as the university was funded by the 21 Local Governments of the State. Additionally, the university adopted a policy of admitting students from every state in Nigeria to promote national unity, understanding, and integration of the youth.
During his tenure, all academic programs of the university received successful accreditation, which is crucial for maintaining high academic standards and credibility. Alkasum Abba was committed to enforcing academic standards in terms of admission, registration, teaching, and examinations.
He also made significant strides in promoting postgraduate education by establishing the Postgraduate School in 2010. Under this initiative, the university witnessed the graduation of five PhDs and over 200 postgraduate diplomas and Master's degrees by 2014.
Emphasizing the importance of technology in education, Alkasum introduced ICT as the basis for teaching and learning at Adamawa State University. The institution became one of the first public higher education institutions in Nigeria to sustain a one-to-one student laptop program without government subsidy. This initiative was complemented by the installation of interactive smart boards in all classrooms, enhancing the effectiveness of teaching and monitoring. The university's commitment to ICT earned it recognition as one of the 13 ICT-driven universities by the NUC and the Federal Government.
Under his leadership, the number of PhD holders at the university significantly increased through massive staff training initiatives. The academic staff underwent postgraduate training in 13 countries and 18 universities in Nigeria. This training led to 138 staff members completing Masters and PhD programs and returning to contribute to the academic development of the university.
Alkasum Abba's tenure also saw remarkable infrastructure development at the university. A brand new Faculty of Science with seven departments and the Dean's Office was established. Lecture halls, GIS and Cartography laboratories, Department of History and Languages, and the Entrepreneurship Centre were also constructed, all funded through normal interventions from TETfund.
Thanks to these advancements and achievements, Adamawa State University gained national and international recognition as a significant center of learning. Alkasum Abba's contributions were acknowledged with international awards, including the European Business Council award in 2013 and the Best University award given by the Indian-Africa Association in 2012. The university was also honored with the World Marketing Summit Award in Putrajaya, Malaysia, in 2013, among others.
Furthermore, Alkasum Abba ensured the development of a Science Laboratory Complex with 18 laboratories through savings and Internally Generated Revenue (IGR). The institution also received support from TETfund with a Special Intervention in 2010 to purchase critical laboratory equipment.
Alkasum Abba's tenure as Vice Chancellor of Adamawa State University, Mubi, was marked by significant progress in various domains, turning the institution into a well-respected and recognized center of learning both nationally and internationally. His contributions to the university's growth and development have left a lasting impact on the institution and its academic community.
In conclusion, Alkasum Abba is a highly accomplished and distinguished individual with an impressive profile spanning across academic, administrative, and research domains. His journey as a scholar, historian, and administrator reflects a lifetime commitment to excellence, knowledge dissemination, and nation-building.
As a historian, Alkasum Abba has made significant contributions to the understanding of Nigerian history, particularly in the Northern region. His extensive research and publications shed light on various historical events, societal transformations, and political contexts that have shaped the country's past. Through his involvement in numerous research projects, including collaborations with national and international institutions, he has enriched historical knowledge and promoted a better understanding of Africa's complex past.
Furthermore, his academic career and administrative roles exemplify a profound commitment to education and its transformative power. His dedication to teaching, research, and mentoring have inspired countless students and scholars to pursue excellence in their academic pursuits. As an administrator, his visionary leadership has led to transformative changes in various institutions, enhancing their academic standards, infrastructure, and international recognition.
Alkasum Abba's contributions extend beyond academia, as demonstrated by his active involvement in community services, human rights investigations, and advocacy for good governance and democracy. He has consistently demonstrated a strong sense of responsibility and concern for the welfare and progress of his community and country.
Moreover, his international engagements and participation in conferences and seminars around the world highlight his commitment to global cooperation, knowledge exchange, and the pursuit of solutions to pressing global challenges.
Throughout his illustrious career, Alkasum Abba has been recognized and honored for his significant contributions to education, research, and nation-building. His awards and accolades serve as a testament to his exceptional accomplishments and leadership.
In sum, Alkasum Abba's profile portrays a versatile, accomplished, and esteemed individual who has left an indelible mark in the fields of history, academia, and administration. His dedication to education, research, and community service serves as an inspiration to aspiring scholars, administrators, and leaders, and his contributions have undoubtedly enriched the academic landscape and contributed to the advancement of knowledge in Nigeria and beyond.
Join our Exclusive List of Subscribers
Business executives, political leaders, experts and top professionals in America, Africa and the rest of the Pan-African World trust and read The African Times USA always. Subscribe now to access our exclusive content. Find out what you don't know and Find out what only few people know.
Your comments, ideas, and thoughts matter.
Drop us a line: